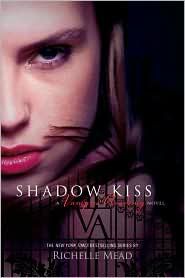 Shadow Kiss by

Richelle Mead
Release Date: November 13th, 2008
Publisher:
Razorbill
Age Group: Young Adult
Pages: 443
Overall:
Is Rose's fate to kill the person she loves most? It's springtime at St. Vladimir's Academy, and Rose Hathaway is this close to graduation. Since Mason's death, Rose hasn't been feeling quite right. She has dark flashbacks in the middle of practice, can't concentrate in class, and has terrifying dreams about Lissa. But Rose has an even bigger secret . . . .She's in love with Dimitri. And this time, it's way more than a crush.

Then Strigoi target the academy in the deadliest attack in Moroi history, and Dimitri is taken. Rose must protect Lissa at all costs, but keeping her best friend safe could mean losing Dimitri forever.
This book just choked me up. It was full of action that was intense it had me gripping the book tightly in my hands.
The relationship between all the characters intensified. Rose is still secretly in love with Dimitri. Christian and Rose become better friends as they team up in her protection practice. They not only become friends but also a fighting force which is incredible in the action scene.
This book is my favorite in the series. It had me in tears at the end, and those of you who have read it, know why. It was just too much for me to handle. I cannot wait for Blood Promise to come out.
Plot:
Character:
Writing:

Cover: