Alright everyone, since I have reached (and passed) 25 followers, I'm going to hold my first contest! And since I have recently won the Swag Bag contest over at Michelle Zink's site for having found the book in stores, I thought it would make a good giveaway!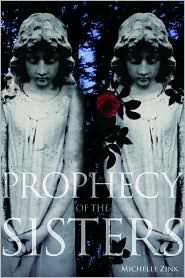 Prophecy of the Sisters by

Michelle Zink
(Released officially August 1st, but being found daily in bookstores!)
Six

teen-year-old Lia Milthorpe and her twin sister Alice have just become orphans, and, as Lia discovers, they have also become enemies. The twins are part of an ancient prophecy that has turned generations of sisters against each other. To escape from a dark fate and to remain in the arms of her beloved boyfriend James, Lia must end the prophecy before her sister does. Only then will she understand the mysterious circumstances of her parents' deaths, the true meaning of the strange mark branded on her wrist, and the lengths to which her sister will go to defeat her. Debut novelist Michelle Zink takes readers on an unforgettable journey where one sister's fateful decision could have an impact of Biblical proportions. Prophecy of the Sisters is the first of three books.
To Enter:
Open to U.S. Residents and International Residents!
You Must:
Leave a comment telling me what debut author's book you are looking forward to the most!
For Additional Entries
+1 - Linking to this contest (Must leave link/+1 for each additional link up to 5)
+1 - Tweeting about this Contest
+1 - Referring someone to this contest (they must leave your name)
+2 - Following me on Twitter (thebookexplorer)
+2 - For Becoming a Follower
+3 - For already following me on Twitter
+3 - For Already Being a Follower
Good luck!
This contest ends
Saturday, July 25th, 2009.
Winners will be posted on Sunday, July 26th.