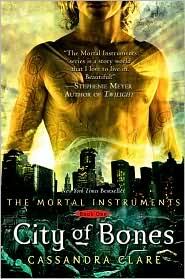 City of Bones by

Cassandra Clare
Release Date: March 27th, 2007
Publisher:
Margaret K. McElderry
Age Group: Young Adult
Pages: 485
Overall:

When fifteen-year-old Clary Fray heads out to the Pandemonium Club in New York City, she hardly expects to witness a murder -- much less a murder committed by three teenagers covered with strange tattoos and brandishing bizarre weapons. Then the body disappears into thin air. It's hard to call the police when the murderers are invisible to everyone else and when there is nothing -- not even a smear of blood -- to show that a boy has died. Or was he a boy?

This is Clary's first meeting with the Shadowhunters, warriors dedicated to ridding the earth of demons. It's also her first encounter with Jace, a Shadowhunter who looks a little like an angel and acts a lot like a jerk. Within twenty-four hours Clary is pulled into Jace's world with a vengeance, when her mother disappears and Clary herself is attacked by a demon. But why would demons be interested in ordinary mundanes like Clary and her mother? And how did Clary suddenly get the Sight? The Shadowhunters would like to know...

Exotic and gritty, exhilarating and utterly gripping, Cassandra Clare's ferociously entertaining fantasy takes readers on a wild ride that they will never want to end.
Cassandra Clare creates a new world within the everyday world of Earth, taking all the creatures people love to read about and combining them nicely in a small package.
Clary is a loveable character who isn't the automatic heroine in situations. She is strong willed and able to make decision about what she wants to do, but usually has Jace to back her up and keep her safe from danger. She is smart and comes up with many solutions that others perhaps wouldn't have thought of. Jace is the strong counterpart to her. He steps up into the protector role and readily fights for those he cares for and for what his loved ones think is important. Other characters add fun and tension to the duo as other unrequited love and clashing personalities.
The reading was a little more involving than some other teen books, but not any harder to understand than other novels. It was gripping right from the start and held all the way through to the end.
Plot:

Character:

Writing:

Cover: