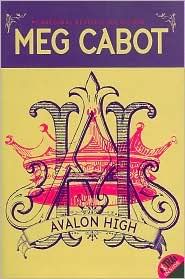 Avalon High by

Meg Cabot
Release Date: December 27th, 2005
Publisher:
Harper Teen
Age Group: Young Adult
Pages: 355
Overall:

Avalon High seems like a typical high school, attended by typical students: There's Lance, the jock. Jennifer, the cheerleader. And Will, senior class president, quarterback, and all-around good guy.

But not everybody at Avalon High is who they appear to be ... not even, as new student Ellie is about to discover, herself. What part does she play in the drama that is unfolding? What if the bizarre chain of events and coincidences she has pieced together means -- as with the court of King Arthur -- tragedy is fast approaching Avalon High?

Worst of all, what if there's nothing she can do about it?
I love the legend of Arthur and this was a interesting twist on the story, especially putting it into a high school setting.
The characters were interesting enough. While they may not have been entirely relatable, they were interesting enough to follow. Ellie is a strong female character who takes the burden of trying to save Will from his friends, his brother and himself. It adds the sense that even girls were important in the common legend.
The writing was simple enough, and very enjoyable. It was a fast read that kept me interested in it enough to finish it fast.
Plot:

Character:

Writing:

Cover: