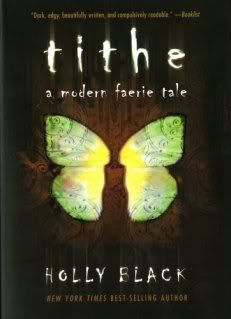 Tithe: A Modern Faerie Tale by

Holly Black
Release Date: March 23rd, 2004
Publisher:
Simon Pulse
Age Group: Young Adult
Pages: 331
Overall:

Sixteen-year-old Kaye Fierch is not human, but she doesn't know it. Sure, she knows she's interacted with faeries since she was little--but she never imagined she was one of them, her blond Asian human appearance only a magically crafted cover-up for her true, green-skinned pixie self. First-time author Holly Black explores Kaye's self-discovery and dual worlds in her riveting, suspenseful novel Tithe: A Modern Faerie Tale.

The novel begins in a bar in Philly, where Kaye's alcoholic rock-singer mother's boyfriend tries to kill her. For their own safety, mother and daughter quickly move back to grandma's on the New Jersey shore where Kaye grew up. This ugly turn of events was all rigged by the Faerie world, as it turns out, a world Black describes in deliciously vivid, if rather overblown, detail. Kaye, a drinking, smoking, foul-mouthed high school dropout in the land of mortals, soon finds herself embroiled--as a human sacrifice, no less--in a battle between Faerieland's Seelie and more malevolent Unseelie courts. The beautiful, mysterious knight Roiben, torn between worlds himself, falls in love with Kaye--the brave, clever changeling--against his better judgment. Throughout the electrifying journey to the horrific underworld of this modern faerie fantasy, teen readers will relate to a hard-luck tough girl who feels alienated, discovers her best qualities in the worst of circumstances, and finally finds a place between worlds where she can feel at home.
This was a cute story that I read back before I had really gotten into faerie stories. It was the supernatural romance that tends to drag me into all kinds of stories.
Kaye was a fun character to follow, and you instantly want her and Roiben to get together. Both characters are stubbornly independent but in spite of that, they end up loving each other and saving each other from those who are trying to harm them.
It was a good story and I have read the sequel Valiant, which I will be posting at a later date. I haven't read Ironside though I intend to which is why I decided to post a review for this.
Plot:

Character:

Writing:

Cover: