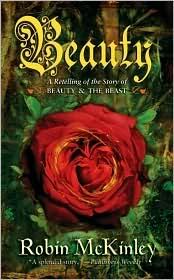 Beauty by

Robin McKinley
Release Date: January 1st, 1978
Publisher:
HarperTrophy
Age Group: Young Adult
Pages: 256
Overall:

Contrary to the name, 16-year-old Beauty is not the prettiest girl in her family. But she is the cleverest, bravest, and most honorable. When her father makes a promise with a beast who lives in an enchanted castle, Beauty fulfills her father's pledge. A marvelous retelling of a favorite love story.

This much-loved retelling of the classic French tale Beauty and the Beast elicits the familiar magical charm, but is more believable and complex than the traditional story. In this version, Beauty is not as beautiful as her older sisters, who are both lovely and kind. Here, in fact, Beauty has no confidence in her appearance but takes pride in her own intelligence, her love of learning and books, and her talent in riding. She is the most competent of the three sisters, which proves essential when they are forced to retire to the country because of their father's financial ruin.

The plot follows that of the renowned legend: Beauty selflessly agrees to inhabit the Beast's castle to spare her father's life. Beauty's gradual acceptance of the Beast and the couple's deepening trust and affection are amplified in novel form. Robin McKinley's writing has the flavor of another century, and Beauty heightens the authenticity as a reliable and competent narrator.
I am in love with the story of Beauty and the Beast. It is my favorite fairy tale, and I tend to watch the Disney version of it over and over again. I simply cannot help it. So when I found this book randomly one day in Barnes and Noble, I thought it would be great.
However, I didn't really like it. The writing was what kind of threw me off. There wasn't much detail at all. I personally like a little bit of fluff, but Beauty didn't seem to have any. It was more being told than being shown, which every writing teacher would frown upon.
The characters also weren't very drawn out. You knew kind of what Beauty was like. She liked to read, she was giving, she was self-sacrificing. However, there wasn't much more depth to her character. What about her thoughts, wishes, dreams? She seemed very two-dimensional to me. The Beast was also slightly two-dimensional. There is no depth to his character, and you don't really see why he acts the way he does.
The details of the enchantment are also kind of vague. He's under a curse, and you find out why. However, you don't find out why he was the one it finally took hold of, or why he managed to control the servants or anything else. The curse however was a new twist and I did enjoy that.
Perhaps I'm just a sucker for the Disney movie version of this fairy tale, but this one didn't really do it for me.
Who Might Like This Book:
Fairy Tale Lovers
People who love Robin McKinley
Lovers of all Beauty and the Beast Stories, not just Disney Movies

Plot:

Character:

Writing:

Cover: