"Waiting on Wednesday" is a weekly meme hosted by
Breaking the Spine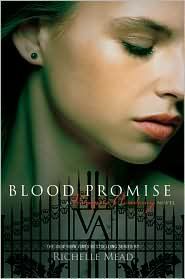 Blood Promise by

Richelle Mead
Release Date: August 25th, 2009
Pages: 480
DIMITRI'S HEART HAS GONE DARK

Now Rose must journey to the ends of the earth to find--and kill--her one true love...

Or has the time come to join him?

BOUND BY LOVE, BUT SWORN TO KILL...

The rest of the world had considered Dimitri dead. And to a certain extent, he was. But I hadn't been able to forget a conversation he and I had once had. We'd both agreed that we'd rather be dead—truly dead—than walk the world as Strigoi. It was time to honor our words.

Guardian Rose Hathaway's life will never be the same.

The recent attack on St. Vladimir's Academy devastated the entire Moroi world. Many are dead. And, for the few victims carried off by Strigoi, their fates are even worse. A rare tattoo now adorns Rose's neck, a mark that says she's killed far too many Strigoi to count. But only one victim matters . . . Dimitri Belikov. Rose must now choose one of two very different paths: honoring her life's vow to protect Lissa—her best friend and the last surviving Dragomir princess—or, dropping out of the Academy to strike out on her own and hunt down the man she loves. She'll have to go to the ends of the earth to find Dimitri and keep the promise he begged her to make. But the question is, when the time comes, will he want to be saved?

Now, with everything at stake—and worlds away from St. Vladimir's and her unguarded, vulnerable, and newly rebellious best friend—can Rose find the strength to destroy Dimitri? Or, will she sacrifice herself for a chance at eternal love?
This is the Fourth book in the Vampire Academy Series. I can't wait for it to come out and am nearly dying of anticipation. Especially after the end of the last book. Maaaannnnnn. August is so far away!