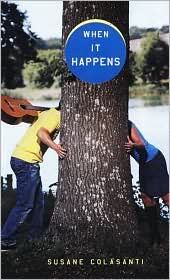 When It Happens by

Susane Colasanti
Release Date: May 4th, 2006
Publisher:
Viking Juvenile
Age Group: Young Adult
Pages: 320
Overall:

At the start of her senior year, Sara wants two things: to get into a top college and to find true love. Tobey also wants two things in his senior year: to win Battle of the Bands and to make Sara fall in love with him. A popular jock named Dave, though, moves in on Sara first. But Tobey's quirky wit and big blue eyes are hard for Sara to ignore. Plus, he gets the little things that matter to her - like why she loves the Lloyd Dobler boom-box scene in the movie Say Anything...Can a slacker rock-star wanna be win the heart of a pretty class brain like Sara?

This is the first book I've read by Susane Colasanti. It was a quick read and entertaining. While it isn't the type of book I usually read, it was refreshing and joyful to see the underdog get the girl in a book.
The writing was pretty straight forward telling the reader exactly what they need to know, not really fluffing it up too much. She added cute scenes to make the reader's hearts grow fuzzy with warmth. My favorite scene was the re-enactment from Say Anything. Those who have scene the movie and have read the book know which one I'm talking about.
The characters were very relatable. It was easy relate with Sara, who was a realistic brainy student. There is also the underdog that guys might be able to relate to if they read the book, and if they don't, it gives the smart girls the hope of finding their own Tobey.
Overall the book was entertaining, though not necessarily a must read in my opinion.
Who Might Like This Book:
Romance Readers
Chick Lit Readers

Plot:

Character:

Writing:

Cover: