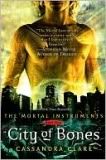 Teaser Tuesday is a weekly meme held by
Should Be Reading
and here is my Teaser for today.
It was Alec who spoke first. "What''s this?" he demanded, looking from Clary to his companions, as if they might know what she was doing there.

"It''s a girl," Jace said, recovering his composure. "Surely you''ve seen girls before, Alec. Your sister Isabelle is one." He took a step closer to Clary, squinting as if he couldn''t quite believe what he was seeing. "A mundie girl," he said, half to himself. "And she can see us."

"Of course I can see you," Clary said. "I''m not blind, you know."
City of Bones by Cassandra Clare, Page 12