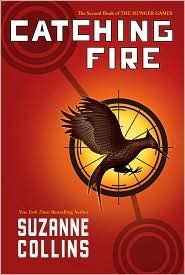 Catching Fire by

Suzanne Collins
Release Date: September 1st, 2009
Publisher:
Scholastic Press
Age Group: Young Adult
Pages: 432
Overall:
Against all odds, Katniss Everdeen has won the annual Hunger Games with fellow district tribute Peeta Mellark. But it was a victory won by defiance of the Capitol and their harsh rules. Katniss and Peeta should be happy. After all, they have just won for themselves and their families a life of safety and plenty. But there are rumors of rebellion among the subjects, and Katniss and Peeta, to their horror, are the faces of that rebellion. The Capitol is angry. The Capitol wants revenge.
I received an ARC of this book when a friend sent it to me in the mail after I started my blog. While it wasn't from Suzanne Collins or Scholastic I was still super excited when I got this book. I have wanted to read this book since I finished reading The Hunger Games little less than a year ago.
Just like The Hunger Games, Suzanne Collins threw twists and cliffhangers at the reader left and right. I read this book in one day, staying up until four a.m. simply having to know what happens to Katniss and Peeta. While some questions were answered, she threw out even more questions making the reader beg for an answer before the book is finished. Unfortunately, not all were answered before the book was concluded.
We get a deeper insight into Katniss and her feelings for both Peeta and Gale, which was a big question at the end of Hunger Games. We also see how the two boys respond to her when she comes to cope with her own feelings. We also get a deeper look into characters we thought we had already figured out completely, like Haymitch.
This book was not a disappointment at all. It reached the expectation that Hunger Games left me hunger for, if not excelling it even more. I cannot wait for the next and final book in the series.
Plot:
Character:
Writing:
Cover: