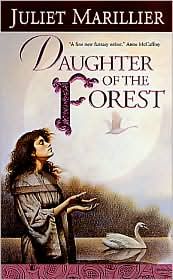 Daughter of the Forest by

Juliet Marillier
Release Date: February 18th, 2002
Publisher:
Gollancz
Age Group: Adult
Pages: 560
Overall:
At the heart of this surprisingly accomplished first novel, first book of the Sevenwaters trilogy, is a retelling of an ancient Celtic legend. Marillier's story, however, is much more than a slightly disguised fairy tale. Young Sorcha is the seventh child and only daughter of Irish Lord Colum of Sevenwaters, a domain well protected from invading Saxons and Britons by dense forest where, legend says, fey Deirdre, the Lady of the Forest, walks the woodland paths at night.

Colum is first and foremost a warrior, bent on maintaining his lands against all outsiders. Not all of his sons are so bound to the old ways, and that family friction leads to outright disobedience when Sorcha and her brother Finbar help a Briton captive escape from Colum's dungeon. Soon after, Colum brings home a new wife who ensorcels everyone she can't otherwise manipulate. By her spell Sorcha's brothers are cursed to become swans. Only Sorcha, hiding deep in the forest, can break the spell by painfully weaving shirts of starwort nettle--but then Sorcha is captured by Britons and taken away across the sea.

Determined to break the curse despite her captivity, Sorcha continues to work, little expecting that ultimately she will have to chose between saving her brothers and protecting the Briton lord who has defended her throughout her trials.

Marillier's writing is deft and heartfelt, bypassing the usual bombast of fantasy fireworks for a rich, magical story of loyalty and love. --Charlene Brusso
Juliet Marillier takes an old fairy tale and gives it new magic. I absolutely loved the way she wrote the book, and it is by far one of my favorite books.
The characters are completely original, and never have I seen a character so full of spunk as Sorcha is. All of the characters have the serious persona when times are difficult, but their light humorous side comes out when the time allows for it. You can see the true love that the characters have for each other, as well as the hate they feel toward Lady Oonagh. Even Sorcha's brother have characters that astound, and Marillier does a great job describing how hard it is for them to change from swans to men.
I truly love this series and can't wait for more books to come out by Juliet Marillier because they will definitely be on my list to read.
Plot:
Character:
Writing:
Cover: