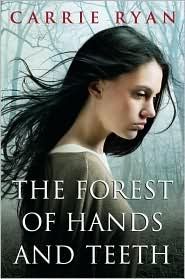 The Forest of Hands and Teeth by

Carrie Ryan
Release Date: March 10th, 2009
Publisher:
Gollancz
Age Group: Young Adult
Pages: 310
Overall:

In Mary's world there are simple truths. The Sisterhood always knows best. The Guardians will protect and serve. The Unconsecrated will never relent. And you must always mind the fence that surrounds the village; the fence that protects the village from the Forest of Hands and Teeth.

But, slowly, Mary's truths are failing her. She's learning things she never wanted to know about the Sisterhood and its secrets, and the Guardians and their power, and about the Unconsecrated and their relentlessness. When the fence is breached and her world is thrown into chaos, she must choose between her village and her future—between the one she loves and the one who loves her. And she must face the truth about the Forest of Hands and Teeth. Could there be life outside a world surrounded in so much death?
I really liked reading this book. It is written slightly different than other teen books because it is done in the present tense. While I had only read one other book like this in the past, I was extremely excited to see how the book would turn out. With it being written in the present tense, the ending for Mary could have been anything because I was experiencing the story along side Mary as she experienced it herself.
The Forest of Hands and Feet reminded me of a combination of two movies: The Village and Resident Evil. The isolation and secrets that the Guild was keeping from the entire village inspired curiosity into me as I learned things that even Mary didn't realize. The zombie, or Unconsecrated, added an edge to the story, keeping me constantly on my seat wondering if the characters would make it through the story alive or a feast for the flesh-eating creatures.
The characters were very original. The brotherly ties between Travis and Harry were real endearing and seemed more lifelike than others siblings from other books I've read. Also the way Jed acts with Mary near the end also gives a realistic view of the relationships of the book.
I cannot wait for the sequel to come out next year. This is definitely an author to keep watching, and waiting for the next book from her to come out.
Plot:

Character:

Writing:

Cover: