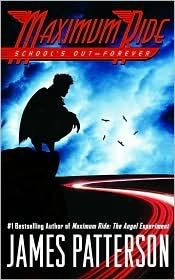 Maximum Ride: School's Out Forever by

James Patterson
Release Date: September 1st, 2009
Publisher:
Little Brown Books
Age Group: Young Adult
Pages: 409
Overall:

Brave bird-kid Max and her flock fly south on a perilous quest to find their parents, after having rescued Angel and recovered secret documents about their origins. But just when they think they've finally escaped the hungry claws of evil Erasers, they're discovered by an FBI agent and forced to face perhaps an even worse nightmare: going to school. There's no such thing as an ordinary day when Max's "homework" includes decoding documents, deciphering when (and how) she's supposed to save the world, and learning to face what may be her greatest enemy: herself. A clone. Max II.
This sequel to The Angel Experiment did not leave me disappointed. It picked up right where the first one left off and was a great book.
The character relationships grew even more in this book, and it is even more evident why these bird-kids stick together instead of going off on their own. Even more twists are thrown at the reader as they try to figure out who the true enemy is in this book. There would be a moment of peace for the reader and the bird-kids until some new challenge was thrown at them.
This is definitely a series to keep one's eyes on. It's a new and original story written in an easy, fast pace way.
Plot:

Character:

Writing:

Cover: