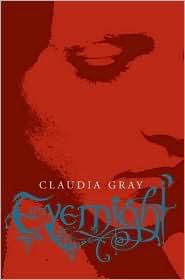 Evernight by

Claudia Gray
Release Date: June 1st, 2008
Publisher:
Harper Teen
Age Group: Young Adult
Pages: 336
Overall:

Bianca wants to escape.

She's been uprooted from her small hometown and enrolled at Evernight Academy, an eerie Gothic boarding school where the students are somehow too perfect: smart, sleek, and almost predatory. Bianca knows she doesn't fit in.
Then she meets Lucas. He's not the "Evernight type" either, and he likes it that way. Lucas ignores the rules, stands up to the snobs, and warns Bianca to be careful—even when it comes to caring about him.

"I couldn't stand it if they took it out on you," he tells Bianca, "and eventually they would."

But the connection between Bianca and Lucas can't be denied. Bianca will risk anything to be with Lucas, but dark secrets are fated to tear them apart . . . and to make Bianca question everything she's ever believed.
Claudia Gray took the typical vampire love story and spun a new twist on it. The magical setting of a school combined with the element of paranormal romance create a wonderful story that I couldn't put down.
Bianca was a great character that handled each situation thrown at her like any teenager would. She was easy to relate to and made the story seem real. Her attraction to Lucas only intensified the reality created, as they fought to keep their relationship as well as deal with the different things that were revealed throughout the novel. Even the minor characters like Vic and Raquel and Balthazar were realistic and only brought more enjoyment to the story.
The only thing I found slightly confusing was the sudden appearance of details after a certain turn of events. Of course, if those details were given before hand it would have made the sudden revelation less dramatic, but other than that it was written wonderfully and I can't wait to read the next books in the series.
Plot:

Character:

Writing:

Cover: