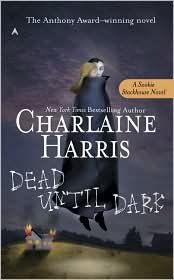 Dead Until Dark by

Charlaine Harris
Release Date: May 1, 2001
Publisher:
Ace
Age Group: Adult
Pages: 292
Overall:

Sookie Stackhouse is a cocktail waitress in small-town Louisiana, but she keeps to herself and doesn't date much because of her "disability" to read minds. When she meets Bill, Sookie can't hear a word he's thinking. He's the type of guy she's waited for all of her life, but he has a disability, too--he's a vampire with a bad reputation. When one of Sookie's coworkers is killed, she fears she's next.
I really like the world that Charlaine Harris created. It is a world you can't help but get absorbed into while reading. The story is a fun spin on Vampires and the worlds reaction to them.
The characters are original and easy to love. While Bill has the southern chivalry that will make the girls instantly swoon over him, there is also Sam the more modern take on the kindness that will make girls love him as well. I also found myself able to relate to the main character, Sookie Stackhouse, even though she has a "disability."
While the writing was not exactly the type I prefer, it was not bad. I will definitely give the second book in the series a shot, if not all of them later on down the road.
Plot:

Character:

Writing:

Cover: