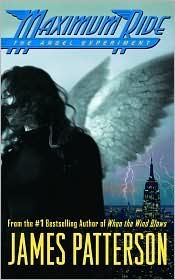 Maximum Ride: The Angel Experiment by

James Patterson
Release Date: May 1st, 2006
Publisher:
Little, Brown Books
Age Group: Young Adult
Pages: 464
Overall:

Fourteen-year-old Maximum Ride, better known as Max, knows what it's like to soar above the world. She and all the members of the "flock"--Fang, Iggy, Nudge, Gasman and Angel--are just like ordinary kids--only they have wings and can fly. It may seem like a dream come true to some, but their lives can morph into a living nightmare at any time...like when Angel, the youngest member of the flock, is kidnapped and taken back to the "School" where she and the others were experimented on by a crew of wack jobs. Her friends brave a journey to blazing hot Death Valley, CA, to save Angel, but soon enough, they find themselves in yet another nightmare--this one involving fighting off the half-human, half-wolf "Erasers" in New York City. Whether in the treetops of Central Park or in the bowels of the Manhattan subway system, Max and her adopted family take the ride of their lives. Along the way Max discovers from her old friend and father-figure Jeb--now her betrayed and greatest enemy--that her purpose is save the world--but can she?
The story is a new fairy tale in the making. Every kid who has read it would be ready to make or buy fake wings and pretend to be one of the bird kids in the Flock. Even though it is set for a younger age range, I even feel the need to act the same way.
The characters are new and refreshing. The spunky character of Max is witty and fun loving. Fang is a great counter-part with is silent and brooding manner though you can tell he really cares about the Flock in his own way. Nudge and the Gasman are great comic reliefs to the serious advantage to rescue the gifted Angel. Iggy is a personal favorite because he is just as capable even though he is handicapped.
This was a fun read, and it was easy. The writing was simple, not to difficult at all. It was also written in a way where you feel like part of the adventure. It is also the first in the series and is a great beginning to the story being told.
Plot:

Character:

Writing:

Cover: