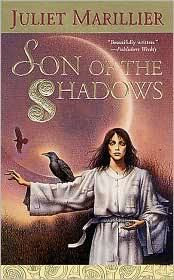 Son of the Shadows by

Juliet Marillier
Release Date: June 17th, 2009
Publisher:
Tor Fantasy
Age Group: Adult
Pages: 608
Overall:
Second of the Sevenwaters trilogy of novels about the last days of heroic Ireland, Son of the Shadows takes up the story of the children of Sorcha, who saved her enchanted brothers, and Hugh, the Briton she married. Sorcha's daughter Liadan is a gifted seer and healer who thinks, in spite of her visions, that she knows what the future has in store for her--caring for her dying mother and then an alliance marriage to Eamonn. A chance meeting on the road carries her off to care for a dying man--one of the mercenaries of the sinister Painted Man, Eamonn's archenemy and a killer for hire. Liadan discovers that she cannot choose whom she loves and that she and the Painted Man are as bound up in destiny as her mother and father were before her.
This is the second book in the Sevenwaters trilogy. This book is just as good as the first one. The magical charm that Daughter of the Forest had is seen in the Ireland landscape once again in the sequel.
The new characters that are introduced are just as interesting as the first book's. Liadan is just as head strong as Sorcha was, set on getting what she wants out of life: love, adventure, and family. She expresses herself and refuses to be swayed from her love for the Painted Man even though her family frowns on her choice. The Painted Man is also an ideal bad boy that girls fall for with the haunted past that has created the man he is.
This book is a great folktale, continuing the first magical story. The third book is only bound to be as great.
Plot:
Character:
Writing:
Cover: