Teaser Tuesday is a weekly meme held by
Should Be Reading
and here is my Teaser for today.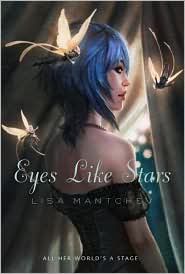 "How did I know you would say that?" Skilled fingers strummed the unseen strings of a guitar. Castanets beckoned, and Bertie wanted to snap her fingers, stomp her feet ,clap her hands. "Lead on, pretty boy."

Ariel gave her a look that contained a lot of something, but didn't say a word. Instead, he adjusted her arms with light touches of his hands, all the while keeping his upper body pressed to hers.
Eyes Like Stars by Lisa Mantchev, Pg. 178