Note:
I read this series before my blogging days. Since I will continue to read this series and will want to make a post about them as I read them, I'm going to combined the books all into one post, instead of taking up time doing individual ones. Sorry it's so long!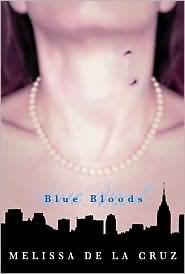 Blue Bloods by

Melissa de la Cruz
Release Date: May 1st, 2006
Publisher:
Hyperion
Age Group: Young Adult
Pages: 302
Overall:

When the Mayflower set sail in 1620, it carried on board the men and women who would shape America: Miles Standish; John Alden; Constance Hopkins. But some among the Pilgrims were not pure of heart; they were not escaping religious persecution. Indeed, they were not even human. They were vampires.The vampires assimilated quickly into the New World. Rising to levels of enormous power, wealth, and influence, they were the celebrated blue bloods of American society. The Blue Bloods vowed that their immortal status would remain a closely guarded secret. And they kept that secret for centuries. But now, in New York City, the secret is seeping out. Schuyler Van Alen is a sophomore at a prestigious private school. Suddenly, when she turns fifteen, there is a visible mosaic of blue veins on her arm. She starts to crave raw food and she is having flashbacks to ancient times. Then a girl from her school is found dead . . . drained of all her blood. Schuyler doesn't know what to think. Could those vampire legends really be true? Steeped in vampire lore and set against the heady backdrop of the rich, young, and powerful in the heart of New York City, Blue Bloods will be devoured by Melissa de la Cruzs legion fans.
After my crazy devouring of the Twilight series, I was yearning for more vampire stories and picked up this one. However, it was nothing like I expected. Thinking there was going to be some kind of blood-sucking themed story, I was pleasantly surprised.
This took the typical idea of vampires and put a twist on it by adding the biblical story of Lucifer and the angels that fell with him. I was instantly intrigued and couldn't wait to devour this story. It was a quick read that I stayed up and finished, unable to put it down. When it finished, the plot left me wanting to know more, craving the next book.
The writing was simple enough. Nothing really lagged in this story after you got slightly slow beginning. The story picked up after the first two chapters however, and then it was easy to finish in one sitting.
The characters were easy to get attached to. I was immediately attached and forming thoughts and hopes of who I wanted to be together, who I didn't, who I liked and hated. It was easy to pick out the heroine of the story without feeling sympathy toward her enemies.
Masquerade by

Melissa de la Cruz
Release Date: May 1st, 2007
Publisher:
Hyperion
Age Group: Young Adult
Pages: 320
Overall:

Schuyler Van Alen is starting to get more comfortable with her newfound vampire powers, but she still has many unanswered questions. A trip to Italy in search of her grandfather only serves to make things more confusing. What secrets are the leaders of The Committee hiding? Meanwhile, back in New York, preparations are feverishly underway for the famous Four Hundred Ball. In true Blue Blood fashion, the ball is totally fab, complete with masks, and hidden behind this masquerade is a revelation that will change the course of a young vampire's destiny.
This book didn't disappoint in the least. It picked up almost immediately where the first one left off, helping to answer some lingering questions that the first left unanswered. It also didn't disappoint in creating more questions to be awaited in the third book.
The character grow even more in this one, especially Schuyler as she becomes more away of her vampiric self. The bond between Jack and Schuyler blossoms to a new height, as well as her relationship with Oliver becoming slightly strained. The girl behind the bossy exterior of Mimi Force also becomes more transparent as readers learn more about her.
The writing is the same as the first book, though since there is no need for an introduction beginning, it jumps right back into the action, making it a faster and more enjoyable read. It's a fast past read, instantly leaving the reader wanting more.
Revelations by

Melissa de la Cruz
Release Date: October 28th, 2008
Publisher:
Hyperion
Age Group: Young Adult
Pages: 256
Overall:

Have you ever wondered what secrets lurk behind the closed doors of New York City's wealthiest families? They're powerful, they're famous...they're undead.
Schuyler Van Alen's blood legacy has just been called into question--is the young vampire in fact a Blue Blood, or is it the sinister Silver Blood that runs through her veins? As controversy swirls, Schuyler is left stranded in the Force household, trapped under the same roof as her cunning nemesis, Mimi Force, and her forbidden crush, Jack Force.
When one of the Gates of Hell is breached by Silver Bloods in Rio de Janeiro, however, the Blue Bloods will need Schuyler on their side. The stakes are high; the battle is bloody; and through it all, Carnavale rages on. And in the end, one vampire's secret identity will be exposed in a revelation that shocks everyone.
I thought this was suppose to be the last book at least in the trilogy. So when I finished it with some lingering questions, I hadn't realized there would be another book. I'm glad there is however.
The characters come into their own, even more than the last two books. Schuyler has grown up and started to take responsibility of figuring out what is going on with the Croaton. She learns to deal with Mimi and doing what's right no matter how she feels toward the character. There is revelation with the Jack/Schuyler situation when Sky comes to her senses a little of what is truly going on.
It was a good book. I can't wait to read the next one, hoping to get more answers and drama of course!
Who Might Like These Books:
Paranormal Romance Lovers
Vampire Lovers
Mythology Lovers

Plot:

Characters:

Writing:

Covers: