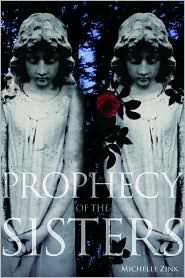 Alright guys! It's time for another contest! This one is also for Prophecy of the Sisters launch!
This is the
Quest for Cuh-Razy Creatures Contest
.
Here is what you have to do to win.
Answer this Question
What Mythological Would You Be and Why?
The more unique your creature and reasoning, the more likely you'll be able to win!
The winner will be chosen either by me or Michelle Zink and then she will send the winner the prize.
Now for what you'll win:
The Winner Will Win:
Prophecy Playlist DVD
Bookstore Gift Card (of choice)
Prophecy Bookmart
Prophecy Magnet
Signed Prophecy Poster
Nail Polish
Candy
Choice of DVD between: Bram Stokers Dracula and Stardust
Ends August 27th, 2009 at Midnight

So please list your creature, reasoning, as well as your email address in order to be contacted if you win!