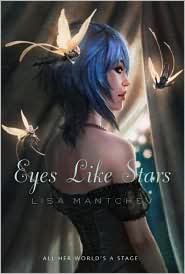 Eyes Like Stars by

Lisa Mantchev
Release Date: July 7th, 2009
Publisher:
Feiwel & Friends
Age Group: Young Adult
Pages: 352
Overall:
Enter Stage Right

All her world's a stage.
Beatrice Shakespeare Smith is not an actress, yet she lives in a theater.
She is not an orphan, but she has no parents.
She knows every part, but has no lines of her own.
Until now.

Welcome to the Théâtre Illuminata, where the characters of every place ever written can be found behind the curtain. They were born to play their parts, and are bound to the Théâtre by The Book—an ancient and magical tome of scripts. Bertie is not one of them, but they are her family—and she is about to lose them all and the only home she has ever known.

Lisa Mantchev has written a debut novel that is dramatic, romantic, and witty, with an irresistible and irreverent cast of characters who are sure to enchant the audience.

Open Curtain
This book as become one of my all time favorites. This is because this book is one of the most original story lines I have read. It was upbeat, humorous, entertaining, and most of all completely new from other things I have read.
First you have the characters and if you have read any of the Shakespearean plays you might recognize some of the characters, with the exception of Beatrice Shakespeare Smith. Bertie is strong minded, determined and very capable. She finds magic in things no one else thinks is worth anything, shows trust in those who are unreliable, and gives life to the book (and Theatre). To lighten the otherwise darkened mood of the plot is the Fairies! I love their humor and obsession with sugarcoated things. It makes everything more delicious. There is the highly favorable love triangle as well, and I can't wait to see how it turns out in the next books.
The writing was also fun and upbeat. It was quick to pick up and fast pace to the end. It was definitely an easy enough read that makes you want to read it over and over again. The only complaint was that I was slightly confused in the beginning at what was going on, but that was simply because I forgot what the jacket flap had mentioned about the book.
I definitely CANNOT wait to read the sequel and will definitely be keeping a watchful eye on Lisa hoping for spoilers.
Who Might Like This Book:
Fairy lovers
Shakespeare Lovers
Play lovers
Paranormal Romance

Plot:
Character:
Writing:
Cover: