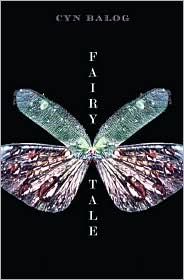 Fairy Tale by

Cyn Balog
Release Date: June 23rd, 2009
Publisher:
Delacorte
Age Group: Young Adult
Pages: 256
Overall:

Morgan Sparks and Cam Browne are a match made in heaven. They've been best friends since birth, they tell each other everything, and oh yeah- they're totally hot for each other.

But a week before their joint Sweet Sixteen bash, everything changes. Cam's awkward cousin Pip comes to stay, and Morgan is stunned when her formerly perfect boyfriend seems to be drifting away.

When Morgan demands answers, she's shocked to discover the source of Cam's distance isn't another girl- it's another world. Pip claims that Cam is a fairy. No, seriously. A fairy. And now his people want Cam to return to their world and take his rightful place as Fairy King.

Determined to keep Cam with her, Morgan plots to fool the fairies. But as Cam continues to change, she has to decide once and for all if he really is her destiny, and if their "perfect" love can weather an uncertain future.
Fairy Tale started out kind of slow for me.
I can remember not being that into it at all, having trouble concentrating on the story. However, I am glad I stuck with the story because it turned out to be a cute story indeed.
The characters were interesting enough. I really liked the fact that the story was told from the mortal's point of view instead of the character being changed. It allowed the reader to see what others go through besides just the one being altered. I also liked how Pip's character slowly changed from the awkward outsider to the cool guy all the girls want.
Except for the beginning, the writing style was fine. It didn't give away exactly what was going to happen, but it gave hope that you might get what you want to happen (depending on which way you leaned). There was still a little bit of surprise though if you are observant you can probably see what is going to happen before it does.
I think my favorite part of the story is the ending. It ended exactly like I wanted it to, and didn't leave me disappointed at all. I think this is one of the few books in which I really did like the ending.
Who Might Like This Book:
Faery lovers
Fairytale Lovers
Paranormal Romance

Plot:

Character:

Writing:

Cover: