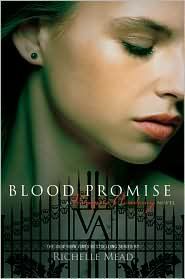 Blood Promise by

Richelle Mead
Release Date: August 25st, 2009
Publisher:
Razorbill
Age Group: Young Adult
Pages: 503
Overall:
How far will Rose go to keep her promise?
The recent Strigoi attack at St. Vladimir's Academy was the deadliest ever in the school's history, claiming the lives of Moroi students, teachers, and guardians alike. Even worse, the Strigoi took some of their victims with them. . . including Dimitri.
He'd rather die than be one of them, and now Rose must abandon her best friend, Lissa—the one she has sworn to protect no matter what—and keep the promise Dimitri begged her to make long ago. But with everything at stake, how can she possibly destroy the person she loves most?
Let me just start by saying, Oh My Gosh. I love this series and this book did not let me down one bit. It picks up right where the other one left off and throws you immediately into the action, giving the reader almost exactly what they want to read while throwing in a few surprises.
You get to know more about Dimitri in this one, where he comes from and who his family is. It also gives a new view on the Bond of Lissa and Rose by showing a different type of connection, letting on just how strong and powerful this bond could become if it hasn't gotten there altogether. Through this book, you learn more about the characters and the bonds of friendship, love, and family that they all share.
The writing was amazing. I love how Richelle wrote the parts that involved Lissa. I was slightly worried that she would either cut out Lissa from this book since Rose would be in Russia, or that it would be overly tacky in keeping her that would be completely out of character for Rose. Instead she did it in a great way and I loved the way the story lines ended up together.
I cannot wait for Spirit Bound to come out. I desperately need more to the story.
Who Might Like This Book:
Vampire Lovers
Paranormal Romance Lovers

Plot:
Character:
Writing:
Cover: