Teaser Tuesday is a weekly meme held by
Should Be Reading
and here is my Teaser for today.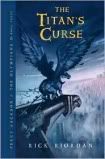 Gurgle, gurgle, the naiad spoke in my mind. The canoe was slowing down.

I looked ahead, and I saw why.

This was as far as they could take us. The river was blocked. A dam the size of a football stadium stood in our path.
The Titan's Curse by Rick Riordan, Pg. 205