In My Mailbox is a weekly Meme hosted by
The Story Siren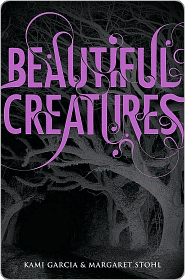 Beautiful Creatures by Kami Garcia and Margaret Stohl
(Hardback/Little, Brown Books for Young readers/December 1st, 2009)
There were no surprises in Gatlin County.
We were pretty much the epicenter of the middle of nowhere.
At least, that's what I thought.
Turns out, I couldn't have been more wrong.
There was a curse.
There was a girl.
And in the end, there was a grave.

Lena Duchannes is unlike anyone the small Southern town of Gatlin has ever seen, and she's struggling to conceal her power and a curse that has haunted her family for generations. But even within the overgrown gardens, murky swamps and crumbling graveyards of the forgotten South, a secret cannot stay hidden forever.

Ethan Wate, who has been counting the months until he can escape from Gatlin, is haunted by dreams of a beautiful girl he has never met. When Lena moves into the town's oldest and most infamous plantation, Ethan is inexplicably drawn to her and determined to uncover the connection between them.

In a town with no surprises, one secret could change everything.
Deadtown by Nancy Holzner
(Paperback/Ace/December 29th, 2009)
They call it Deadtown: the city's quarantined section for its inhuman and undead residents. Most humans stay far from its borders — but Victory Vaughn, Boston's only professional demon slayer, isn't exactly human…

Vicky's demanding job keeping the city safe from all manner of monsters is one reason her relationship with workaholic lawyer (and werewolf) Alexander Kane is in constant limbo. Throw in a foolhardy zombie apprentice, a mysterious demon-plagued client, and a suspicious research facility that's taken an unwelcome interest in her family, and Vicky's love life has as much of a pulse as Deadtown's citizens.

But now Vicky's got bigger things to worry about. The Hellion who murdered her father ten years ago has somehow broken through Boston's magical protections. The Hellion is a ruthless force of destruction with a personal grudge against Vicky, and she's the only one who can stop the demon before it destroys the city and everyone in it.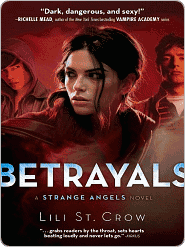 Betrayals by Lili St. Crow
(Paperback/Razorbill/November 17th, 2009)
She's no angel . . .
Poor Dru Anderson. Her parents are long gone, her best friend is a werewolf, and she's just learned that the blood flowing through her veins isn't entirely human. (So what else is new?)
Now Dru is stuck at a secret New England School for other teens like her, and there's a big problem— she's the only girl in the place. A school full of cute boys wouldn't be so bad, but Dru's killer instinct says that one of them wants her dead. And with all eyes on her, discovering a traitor within the Order could mean a lot more than social suicide. . .
Can Dru survive long enough to find out who has betrayed her trust—and maybe even her heart?
Dear John by Nicholas Sparks
(Paperback/Warner Books/ October 30th, 2006)
When Savannah Lynn Curtis comes into his life, John Tyree knows he is ready to turn over a new leaf. An angry rebel, he had enlisted in the army after high school, not knowing what else to do. Then, during a furlough, he meets the girl of his dreams. Savannah Lynn Curtis is attending college in North Carolina, working for Habitat for Humanity, and totally unprepared for the passionate attraction she feels for John Tyree. The attraction is mutual and quickly grows into the kind of love that leaves Savannah vowing to wait for John while he finishes his tour of duty, and John realizing that he's ready to settle down with the young woman who has captured his heart. Neither can foresee that 9/11 is about to change the world and will force John to risk every hope and dream that he's ever had. Like so many proud men and women, John must choose between love and country. And like all those left behind, Savannah must decide to wait or move on. How do we choose wisely? How can we face loss-without giving up on love? Now, when he finally returns to North Carolina, John will discover that loving Savannah will force him to make the hardest decision of his life. An extraordinary, moving story, Dear John explores the complexities of love -- how it survives time and heartbreak, and how it transforms us forever.
Graceling by Kristin Cashore
(Hardback/Harcourt Children's Books/October 1st, 2008)
Katsa has been able to kill a man with her bare hands since she was eight--she's a Graceling, one of the rare people in her land born with an extreme skill. As niece of the king, she should be able to live a life of privilege, but Graced as she is with killing, she is forced to work as the king's thug.
When she first meets Prince Po, Graced with combat skills, Katsa has no hint of how her life is about to change. She never expects to become Po's friend. She never expects to learn a new truth about her own Grace--or about a terrible secret that lies hidden far away . . . a secret that could destroy all seven kingdoms with words alone.
With elegant, evocative prose and a cast of unforgettable characters, debut author Kristin Cashore creates a mesmerizing world, a death-defying adventure, and a heart-racing romance that will consume you, hold you captive, and leave you wanting more.